About us
We're on a mission to challenge that- Quality Floors 4 Less: carefully blending Top Quality with Honest Prices since 2010!
Locally Owned and Operated by 4 very close families of friends and partners of more than 10 years, Quality Floors 4 Less is a Unique and Revolutionary Concept of a Flooring Outlet: we are an Exclusive Northern Nevada Public Distributor of a Select Few Awesome and Proven over the years Brands that create Premium Laminate, Solid & Engineered Hardwood, Linoleum & Tile Flooring, and now 100% Pure Wool Carpets & Rugs, using the latest technology and a state-of-the-art equipment. .
Proven means that we've personally installed what we offer to you in Homes and Businesses of Reno/Tahoe/Carson area for many years, including in our own homes! Our products are NOT found in Big-Box stores because they are Smaller Market Brands, owned and ran by Families, much like ours, that choose not to compromise their Independence, Sustainability of Resources and Quality of their Products for the sake of Larger Corporate Profits.
Quality Floors 4 Less – Reno Flooring for Less!
Carefully blending Top Quality with Honest Prices since 2010!
Opened in April of 2010, Quality Floors 4 Less is not a household name just yet, though we are not new in this business by any means- since 2002 we've professionally installed for Reno and Sparks flooring stores such as: Floors2Go, Hardwood Warehouse, GCO, Flooring Masters, Prism Enterprises and others. Throughout the years we've quietly noticed the insufficiency of flooring retailers: a waste of energy, resources, space, money and time, and as a result- the fact that Quality Floors were affordable to only a few!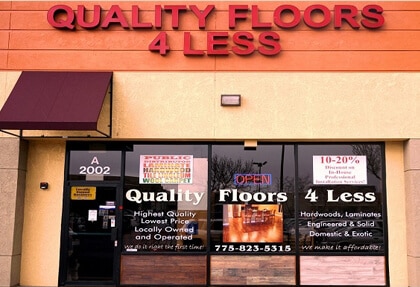 To cover the staggering costs of rent, overhead, interest rates, utility bills and advertising expenses, retailers have to mark up well in excess of 100% over the manufacturers' prices, creating an illusion of non-affordability for most families… We're on a mission to challenge that- Quality Floors 4 Less: carefully blending Top Quality with Honest Prices since 2010!

Why Us?
We don't dress to impress… instead, we guarantee that You Will Be Impressed with our unsurpassed skills and enormous knowledge of the trade, both in flooring and in general construction, that stem out of a decade of personal professional trade experience as floor layers and builders, No Sales Person in a Big-Box Store can even dream of duplicating by simply memorizing corporate manuals that preach Selling rather than Living the Trade. We educate you about all available products and options BS-Free, so you can make an informed decision based on required performance, various conditions and within your budget.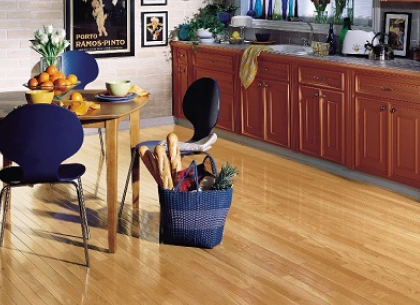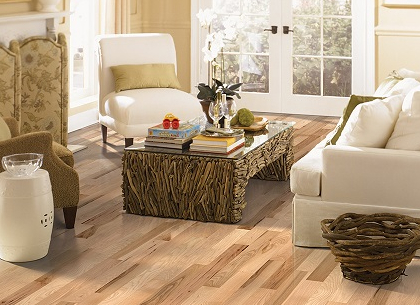 We have NO interest in pushing customers toward more expensive products: we are structured to be compensated equally from the sale of the least expensive Laminate or the most expensive Hardwood. We are the ONLY store in town that offers NO Synthetic products (do you really need those nasty chemicals in your home/body?) and strongly recommends against Bamboo and Exotic wood species, unless there is a Humidifier available to run throughout the lifetime of that flooring… We are in the Desert, folks… those products cannot tolerate our dry climate without constant artificially maintained humidity levels of 45-65% and we are at 25! No Sales Person cares to talk about this simple fact because by the time you'll be having troubles with gaps, cracks, splits, creeks etc- he'll be somewhere else, Not thinking of you…
There is no substitute to your Local Business: At Quality Floors 4 Less we pledge to take care of your project personally and to do it right the first time, like it's our own home, because we rely on your Word of Mouth and we don't enjoy coming back to fix stuff… No Corporation can compete with that- to them, it's only your credit card number that is important; the rest is taken care by the lawyers…
Find out more
Dear Friends, Quality Floors 4 Less is not in business of competing with Home Improvement, Big-Box or Liquidation Stores for the Lowest Prices. We are not called "Cheap Floors for Less" for a reason- Our Mission is to make Premium Floors affordable for people who understand that Poor Quality will always catch up with the "Good Deal" and there will be no-one to complain to because You always get what you pay for and you know it!
If your only comparison is Cost and you're looking for The-Cheapest-Stuff-I-Can-Possibly-Find type of "Deal"- we will not be able to help you, sorry. Please take this friendly advice, though- 30 minutes of research will keep you out of many Corporate Traps out there- just Google something like "Lumber Liquidators Reviews"– a little research will keep You out of harm's way and will save you Thousands of Dollars and an unknown amount of nerve cells!