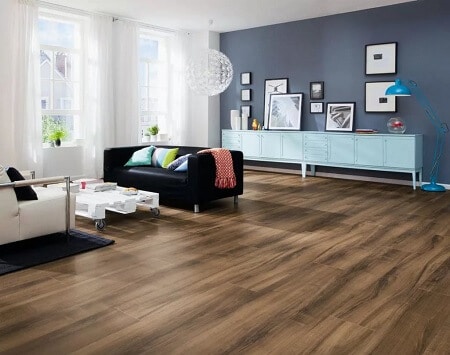 What do you know about laminate? It is important to say that laminate floor is different from the traditional wooden parquet in the same way as bicycle differs from the car. They both are able to drive, but they are differently organized. There is a sense to compare laminate with the parquet board. Nevertheless, laminate has its strong and weak sides you should learn about. If you want to find a perfect floor covering for your home, think about it carefully and you'll love laminate flooring.
Layer Cake – Layer Floor
Let us learn: massive parquet is separate wooden sticks. Traditionally, the sticks are 2 meters long and about 20 centimeters wide. You know, it is very difficult to differentiate high quality parquet board from lower class materials. Just specialists can do this. Finally, laminate flooring looks like parquet. Speaking about its construction, it looks like a layer cake. Remember, the parquet board is made of wood. Laminate is just imitation of wooden floor.
Do not think that laminate floor is the cheapest unworthy solution. This is a separate worthy sort of flooring with its own advantages and disadvantages. As a matter of fact, people used to buy laminate floor to imitate wooden floor many years ago. It was really cheap and impressive. It looks like you have a real wooden floor at your feet. Times change. Laminate floor is not a cheap floor any more, but good variant for everyone, who wants to have reliable and stylish floor for wise money. Besides, laminate gives a lot of opportunities to improve your interior. Is it possible to cover your floor with the real marble and granite? You can do this together with laminated solutions. The colors and structures are different.
Laminate Flooring
It is time to speak about what laminate floor is made of. So, one laminated panel is a piece of fiberboard which is about 1 meter long and about 20 centimeters wide. This panel is composed of four of five pressed layers. Actually, different companies have their own recipes of cooking laminate. It looks like cooking a pie. The lowest layer is made of strong water resistant material. It boasts with stabilization function, making the laminate construction stronger and harder. The second and third layers are basic layers, made of wood fibers of different pressure levels. The last upper layer is structured and colored paper. This picture makes laminate look like a real wooden or marble surface. It may be strange and special, according to your wish and demand. Thus, you'll love laminate flooring for making your interior special!
Laminate is very hard material. Its strength is measured in Tabers. For example, the floor can be 15 000 Taber, 11 500 Taber. These figures speak about the real quantity of polishing circles that the laminated surface usually holds, or so-called bearable stress. This is the way to check the floor and challenge it. The colors of different companies are almost the same. Nevertheless, it is not a problem to create your own interesting tone: standard brown, yellow, acid green or azure. So, this is time to make experiments and fantasize without any regrets.
Find Differences
Laminate flooring is not a competitive partner for wooden parquet. Actually, if you have enough budget for parquet, you would not buy laminate floor. This is very popular opinion. Is it true? Actually, laminate floor and parquet floor are two different price policies. It can happen that laminate floor is 3-5 times cheaper than parquet wood. The point is that you can reanimate your budget with the time. You cannot reanimate your laminate floor, just replace it in 5-7 years. Of course, you can find high class laminate that is more expensive than parquet. Everything depends on technology, facture and brand, of course. The main position is what room you want to recover with laminate flooring. There are many nuances.
So, there are three variants for your floor: laminate floor – painted but strong and high quality wood for the first variant; parquet board made of massive wood and parquet. What to choose? There are three variants and only one flat.
Who Wins? Who Loses?
Of course, parquet and parquet board is long living covering for your floor. The main advantage is possibility to renew and recover old or damaged floor. The average life of laminate is about 5-8 years. Of course, there is special system to repair laminated surfaces. It is too expensive and manageable. It is much better to buy new interesting laminated solution and sleep well for next 8 years. Laminate floor is very strong material. You cannot break the board for two parts with heavy weight. Nevertheless, it is risking on sides. Laminate floor must be well glued on sides.
There is one big minus for all competitors. All of them are afraid of water. It is not recommended to water them. In short, slack water kills your laminate, parquet and parquet board. You have to dust the floor with wet brush or duster.
The End
So, you know everything about such floor covering as laminate floor.
It is cheap and nice. It is not the main advantage. Laminate is not a parquet fake, but separate kind of floor covering. It makes you creating new designs and colors.
Laminate is not afraid of high boots, rollers or cigarettes. It is strong and hard.
If you are going to give your flat for rent – laminate floor is the best budget variant.
Remember, laminate floor must be correctly covered. You have to hire good company to help you to restore your room. There are many fake nuances that may be assigned with the incorrect or careless covering.
Start with….Why do you need laminate floor? Do you want to save money? Or mayby do you want to buy new accommodation and want to repair your old flat for some time? Do you like changes and want to change the color of your floor in 5 years? This is the best solutions for laminate and you'll love laminate flooring.