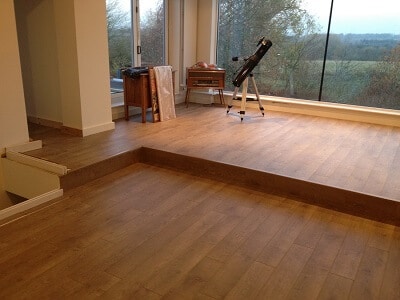 Decorating your flat or house, everyone wants to do everything in the best way, using practical and original modern materials. Speaking about floor, people choose laminate wood flooring. The variety of laminated materials never fails to amaze you. This observation article is going to help you to learn everything about laminated designs, surfaces, class and lasting qualities.
Laminate Wood Flooring Designs
The modern painters and technologists use their skills to the full to create new forms and decorations for laminates. As a result, it is covered with original pictures and prints, interesting structure solutions.
Classic wood
First of all, this kind of wood looks like a real warm wooden surface. As a matter of fact, laminate floor is a budget variation of expensive parquet board. As a result, laminate wood flooring is similar to parquet boards. They look great! You can see different wooden prints, characterizing with different sorts of wood.
Leather luxury
If you like interesting and unusual interiors, leather laminate floor is right for you. You can decorate you working area in special way. The names of manufacturers that are specialized in producing laminated leather surfaces are different. They boast with interesting collections of premium-class. So, the prices for these collections are not budgetary. Nevertheless, you can buy leather laminated covering for budget price, if you can find it. Furthermore, it looks really stylish!
Metal Gloss
What do you know about high-tech? This kind of design likes using such interesting solutions as glassy and metal details. This is the case, when you may use laminate wood flooring. This kind of covering is good for young and active. It is also attractive for living room, night club or trade center.
Stony Calmness
And what about stony floor? Stony floor makes you feel strong and solid. Also it is cold and not very comfortable. Think about buying and setting of stony tile! It is rather expensive. So, laminate producing companies have found the attractive solution. They produce warm and pleasant to touch materials that are copies of stone. All famous brands have their stony collections. You can use laminate stony surface for your living-room, hall or kitchen. Therefore this kind of floor is good for stony decoration, fire places and other interior items.
Design Collections
The collections that are usually called design collections differ with the variety of colors and creative forms. Because the decoration, prints are exclusive. One kind of laminated collection is quite different from the rest of others. Thus, popular world companies offer you to go travelling, producing laminate flooring with map prints. It looks in pop-art style! Want anything more comfortable and usual? You can buy design laminate with canvas pints. It looks great!
Popular companies of big world countries , Germany, USA, Austria and others, attracts clients with their new trend collections. Everything is available: Leonardo da Vinci's old sketches, stone prints, abstractions of acid colors, handprints, line-codes. What about kids' attractions? They are offered to try original prints for their room, such as Pink bambino, Kitty, Disney's cartoons, stamps and prints, made of your own sketches. It sounds interesting! There is one more interesting design solution – Soft Touch. This is your cream, but not a floor!
Laminated Surfaces
Speaking about laminated characteristics, it is needful to speak about its surfaces most of all. This is what your floor appearance usually depends on.
Classic Wooden Surface
This kind of laminate is smooth by touch. To make the floor looks naturally, the surface is decorated with easy dashes and dimples, copying the wooden prints. You can easily see it and feel by touch.
Antique Wooden Surface
As you know, all wooden furniture is getting aged (old). It looks specific: dingy, rubbed, temporally challenged. If you want to make your new laminate wood flooring look like antique surface, buy the new collections of antique laminate with proper characteristics and color solutions.
Polish Surface
As you know, well-polished shiny floor looks always attractive. This kind of laminate material looks like the wooden boards, polished with lacquer before.
The wooden texture looks like real! Looking at your floor, you believe that it was made of natural wood boards, but not laminated covering. The effect is amazing!
Relief Surfaces
Small accurate dashes are applied all over the laminate board. They are not aimed to simulate the natural wooden print. They just make the board rough and textured.
Natural Surface
How does the natural wooden surface look like? Actually, it looks like the wooden board, polished with one or two easy lacquer layers, with bright wooden print. This is the laminated floor with natural upper layer.
Shea Butter Tree
This kind of laminate is mat and frosted. You cannot see dashes and other texture elements on it. It looks like wooden boards that were many times polished along the whole length.
Waxy Surface
Waxy surface is characterized with warm shiny glaze – slight and cozy. The laminate wood flooring of this type looks like a massive wood boards.
Country-Style Surface
Country-style is attractive for country house. The surface is relief, textured and rather rude.
Laminated Forms
Laminated Boards
The bigger part of laminated covering are produced in form of long straight boards (1,2-2 meters long). It is very convenient, especially, if the territory of your house is large. The work goes fast and easy.
Tiles
If you want to create something special on your floor, you may use laminate floor in form of square tiles. It usually costs much, but it does not need back cover.
To make your laminate wood flooring love long, you should take care of it according to all available characteristics. Do not forget about the laminate quality wearing. Pay attention to its class. It can be different, from 21 till 34. The last pint speaks about the maximal pressure on it. To make your floor looks perfect for a long time, it is recommended to use different ruby carpets, glides to protect laminate from scratches. The special cleaning reagents are also must be used periodically. Do not use hard chemicals to remove stains from your laminated floor – read the instruction point carefully.