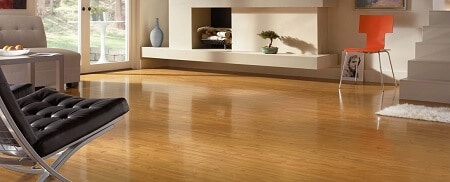 Speaking about flooring, there is always a choice. Definitely, hardwood floor is considered to be the best for your home. Nevertheless, it is rather expensive variant. Think about the best alternative to time-honored hardwood covering – laminate flooring. Why not? Laminate boasts with excellent characteristics, looking great for your floor.
What Kind of Material Laminate is
Laminate is special flooring. The using of laminate grows in increasing frequency. The reason of it is simple to explain: laminate flooring has a mass of positive characteristics. The covering is equally good for housing units, trade and office accommodations.
The first and main reason for people to choose laminate is its price. It is not high, comparing with solid hardwood and other types of hardwood flooring. It makes no difference. Laminating is similar to any kind of wood. This fact allows creating visually different interior. You can also choose simulation of stone, original paintings. You may use laminate for Eco design or country style.
Laminate is simple to use, depending on the chosen type. If desired, you may arrange it on your own, without additional assistance. The key phrase is: comfort and simplicity. Your floor is going to be great!
Laminate is easy-handling. It means that all pollutions are easy to remove with the help of special cleaning liquids or soap solutions.
Laminate is ecologically clean. It is very important for allergists.
Laminate is resistant to high temperatures. Nothing happens if you dropped the heating apparatus on it.
Laminate is resistant to mechanical loading. It is hard to crash and compress. You can draw on it.
Choosing the high-quality material of popular and reliable brands, you should pay attention to such additional characteristics as impact resistance and other available damages. The high-quality laminate is not afraid of stains, of course, if you are going to take care of your floor.
Laminate Usage Durability
The laminate durability classes were specially developed to help people to choose one or another kind of flooring according to your taste and budget. You know, all types of laminate should be carefully checked and tested. They are no less than 18. You are welcomed to buy commercial laminate – strong and high-quality material, predicted to cover the floor mostly for official and public organizations. If you decided to buy it to cover the floor of your house, it will serve for more than 30 years. The laminate flooring is classified into water resistant, casual laminate and extra-heavy laminate.
You should take care of your floor, independently of the lamination class and durability characteristics. Do not forget that first of all, lamination material is wooden material. So, it is afraid of water.
It is recommended to clean the floor with vacuum cleaner and soft mop. If you feel that you need removing hard stains, you may use wet mop. It must be wet, but not moist. It is better to wash the floor with warm water and dry duster. Try to use clean water, free from soap liquids and washing materials.
Water is dangerous for laminating floor. Try to remove big water as fast as possible. Thus, washing laminate means wet cleaning, but not watery. You must be careful in places of canalization and slack water. Remember: watering your laminating floor, you have to remove water as fast as possible.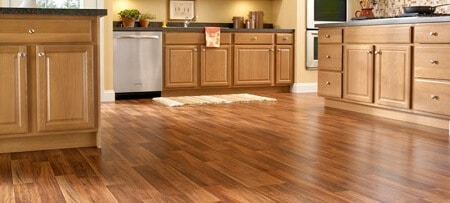 Laminate Care Products
Laminate care products can be effective to use to clean the floor in the best way. What is important, you should try to avoid abrasive cleaning reagents. Do not use soap and cheap soap concentrates. The soap destroys the upper laminated layer. It is not surprising that it can be difficult to remove soap out of the floor. Alkaline cleaners destroy the upper laminated level. So, they are prohibited to use for laminated flooring. As a rule, producer-company recommends special washing materials to use for your type of laminated covering. It is better to buy these products to clean your floor in the safest way. Nevertheless, you may always use clean warm water that using wrong chemicals.
Actually, mud is the first enemy of all types of laminated covering. Try to change shoes, or clean them before entering the room. The mud, sand and other small particles on the floor cracks the laminated covering with the curse of time. If you have already cracked the floor, you should buy special paste.
There is a special mop and chemical to clean the laminate flooring without any efforts. They are developed, considering floor specific and surface type. To take care of you covering in the right way always use nothing special, but right materials and equipment. Actually, the market is full of laminate care products. As a rule, this is spray or gel. They clean the laminated floor, removing different stains and pollutions of all kinds. If you do not have special cleaning materials for your lovely floor, you may use standard chemicals to clean the floor with the neutral PH.
Make Your Laminate Flooring to Live Long
If it is necessary, you may clean your floor twice or several times a day. Frankly speaking, it is enough to clean it once a day. The simplest and the most traditional way is using vacuum cleaner. This is the best cleaning measure for everyday cleaning, refreshing the floor.
Lamination is not recommended to expose to such aggressive influence as high boots, spike hills, heavy furniture that you move from one side of the room to another all the time. Think of using carpets! You may buy a nice carpet for kid's room, corridor, and living room. Watering the floor, try to remove water or other liquid as fast as possible.
It is interesting to know that the upper level of all laminated material pushes the dust back into the air. So, you may use vacuum cleaner every other day, r every two days. Washing the floor, do not forget to dry the floor with duster. The height of perfection is cleaning lamination mate floor. Use nothing, but soft brush and dust! Be careful, to make your laminate flooring live longer, try to take care of it. The first thing is choosing the right company to buy laminate and cover the floor of your flat in the best way.