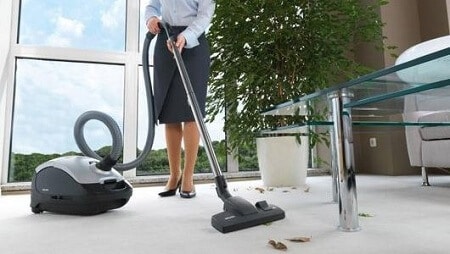 It would seem that there is nothing difficult to take care of the floor and keep it clean. There are a vacuum cleaner and a mop in every house. It is necessary to use them more often, and the floor will always be clean. But such opinion is wrong. Floors made of different materials require different treatment. Therefore, to ensure the beauty of the floor, it is necessary to know what the cleaning and care are suitable for flooring in your apartment, and follow these rules.
Vacuum cleaners for dry and wet floor cleaning
A vacuum cleaner as the home appliance is a vivid illustration of technical progress. The first vacuum cleaners had a gasoline engine, and they were transported on carts pulled by horses. Modern vacuum cleaner is a compact and convenient device. There are several types of this equipment for dry or wet cleaning, for smooth or hairy flooring. The most common type of vacuum cleaner is a device intended for dry cleaning. Inside such cleaner there is a dust bag. Sucked air passes through it and, purified, comes out. A variety of vacuum cleaners for dry cleaning are the cyclone type machines. Precipitation of dust within these devices happens under the influence of centrifugal force.
Some models of vacuum cleaners designed only for wet cleaning. But the most universal ones are combined type machines: washing vacuum cleaners with dry cleaning function. Combined type has inside the water tank and the intake air filter system.
Among the different types of filters that manufacturers equip their vacuum cleaners the most perfect is aqua-filter. Instead of bags or containers inside the machine set a water tank for dust collection. In the process of cleaning the collected dust sets in tank water, and purified and humidified air flows out. Such system helps not only to collect the garbage, but also to struggle with harmful bacteria and allergens.
Vacuum cleaning and floor care for parquet
It's hard to find more beautiful, reliable and durable floor covering than the parquet. However, the parquet will adorn the interior over the years only if the owners will be able to properly care for parquet and clean it. Good nozzle on the vacuum cleaner for parquet should be covered with special soft materials that will not left on the surface of the floor even micro-cracks during the cleaning. Such qualities have, for example, felt and camel hair. Many models of cleaners for parquet have silicone rotating elements. Due to them during the operation of vacuum cleaning, the device easily manoeuvred over a floor surface without damaging it.
The abundance of water is contraindicated for the parquet, because moisture penetrates into the pores of the wood, destroying its structure from the inside. Given this, is it possible to clean the parquet with wet vacuum cleaner? Some models of vacuum cleaners are suitable for this. In such devices the nozzle only slightly moistened to remove dust, but without causing a lot of moisture on the parquet.
Even high-quality vacuum cleaner for parquet is not recommended to use too often. For daily cleanings better to use dry vacuum cleaning and other methods of removing contaminants (such as floor cleaning with dry wipes). Another good tool for secure and gentle removal of dirt is horsehair brush, the structure of which can not harm even the most delicate surfaces.
Features of laminate cleaning
Laminate is one of the most popular floor coverings. The surface of the laminate does not absorb dust and dirt, so for normal cleaning it's enough to clean the floor thoroughly with the conventional vacuum cleaner. Also the laminate has antistatic properties and does not attract a dust.
The water has an adverse effect on the laminate. Under the influence of moisture it can warp, and the fixing locks can diverge. Nevertheless, there are vacuum cleaners intended for washing the laminate. Such devices have a high absorption power, they spray the washing fluid in a minimum amount, resulting in only a slight moistening of the floor surface, and they have convenient nozzles.
Laminate can be cleaned with a damp cloth moistened with warm water, but after that, it is necessary immediately wipe dry the floor. Do not use detergents containing abrasive elements, acids or alkalis. Also it is impossible to clean laminate with metal brushes.
If the stain of a dye or ink has been formed on the laminate, it's recommended to use acetone solvent. To remove stain, moisten a soft (non-synthetic) cloth with a solvent and apply it on the stain. After 1-2 minutes, wipe it with a soft cloth, and a stain will be removed.
Linoleum is flooring, which is not afraid of wet cleaning. For its flooring you can use a wet vacuum cleaning. If linoleum cleans with the help of a mop, it can't be done with hot water. Hot water can cause warping of linoleum. You also must not allow soda or ammonia to contact with linoleum. As for spots on linoleum, they can be removed by kerosene or gasoline.
Tiled floor can be cleaned with water, but not with abrasive powders. Dirty seams between tiles can be cleaned with an ordinary brush.
One of the popular materials for the flooring is cork. Cork floors are beautiful, durable and environmentally friendly. This type of flooring can be vacuumed, cleaned with a damp cloth, wash with detergent. To wash the corks best suited soft detergent compositions not containing aggressive components and solvents. Hard brushes, abrasive cleaners or metal scrapers are not suitable, as they can damage the surface of corks, leaving scratches. To remove stains from the surface of the cork floor, you can process it with fine grit sandpaper, and if after that the floor will have minor defects, they can easily be hidden by the wax or varnish.
Professional floor care
Many people think that the care of floor coverings is easy to perform on their own. Why should you entrust vacuum cleaning and floor care to professionals?
Professional care of floors includes not only vacuum cleaning, but also measures aimed at extending the life of floors and enhances their appearance. Some types of floors with heavy soiling can be cleaned with a rotary machine and a wet vacuum. This is a deep professional cleaning, which has much higher efficiency than the normal cleaning and washing. Also available dry-cleaning of floors, it is aimed at removing of severe stain, dirt, cement and lime deposits. After cleaning, such floors as parquet, linoleum, tiles, natural stone are polishing to a shine to remove detergent stains. In addition, the floors can covered by special polymer coating, which greatly facilitates the daily care of the floor and protect it from dirt and damage. This greatly improves the appearance of different types of floors and extends their service life.
By contacting to the services of our company, you can get a professional care for the floor of your house or apartment, and it will provide an attractive appearance and durability of the floor covering.
After studying the rules of care for the type of flooring that you have in your house, you can successfully keep it clean and ensure its good looks. But the most quality results can be achieved if the floor will be cared professionally. It can be provided by specialists of our company.