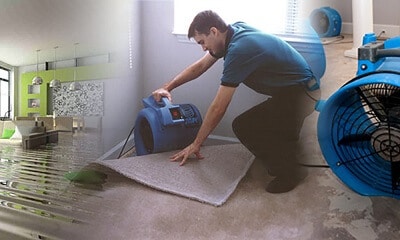 Water is essential for life. But, at the same time, water is element which can make a lot of troubles. Flood is the same dangerous natural disaster as fire and earthquake. But flooding can occur not only in the country or region, but also in your own apartment. This may be due to a broken pipe or a faulty washing machine in your apartment or in the apartment, which is located on the floor above. Such case always occurs suddenly, and it is important not to become puzzled, and immediately take the necessary steps, and then remove all the consequences of flooding. We have some advice for water damage restoration.
What happens in case of flooding your apartment and what must be done
When water penetrates into the apartment, you have a negative effect on all that is in it. Wallpaper and the material of wall and ceiling become wet if the water flows from the top. Water acts on the furniture, especially upholstered furniture. It can damage electrical equipment and cause a short circuit. The carpets became waterlogged, and it is highly undesirable for certain types of carpets. Moisture can damage the floor covering as parquet and laminate. Linoleum is resistant to moisture, but the water can get under it and accumulate there. Excess moisture can lead to mold which spoils household objects and has negative impact on human health.
In order to reduce the effects of apartment flooding to a minimum, you must act quickly and decisively. Of course, you must first remove the source of leakage. If flooding is very serious, an apartment must be disconnected from the mains supply to avoid short-circuiting. Next, you need to take steps to remove standing water from the premises. Most often the water is removing manually using cloths, buckets and mops.
When water is removed, the room should be dry. Wet carpets must be removed, and the furniture is carefully wiped. Later, during cleaning after flooding, be careful. Together with the water to your house can get pointed objects (for example, broken glass).
Water damage restoration
If flooding has occurred from above, then most likely, the ceiling will need to completely repair. If the ceiling is decorated with plastic panels or stretch film, the effects of leakage can be invisible after drying.
Wallpapers must be removed, they cannot be reused. If putty or paint at the walls has been swollen, it definitely needs to scrape with a spatula. Gypsum plasterboard after thorough drying can restore their properties. If sound-insulating or thermal insulation material lay inside the walls, it is necessary to check. May be, it will have to be replaced. All the surfaces damaged by water must be treated with preparations against mold.
For efficient drying, the wood floors can be removed several boards to ventilate the space under the boards. Fabric base linoleum becomes completely unusable caused by water, as well as the laminate. Linoleum without a fabric base must be removed and completely dry, and then it can be used again. Swollen parquet should be dismantled. Then, the floor must be dry, without a sharp rising of a temperature in the room.
Bathroom and toilet usually trim a tile that is not afraid of water. But if the water runs from beneath the tile, so under it there are voids and eventually mold may occur there. Such tile should be replaced.
Is it possible to completely eliminate the consequences of flooding on their own?
If we successively consider all that needs to be done to completely eliminate the consequences of the apartment flooding, then the question should be answered in the negative. This can be seen by considering the content of each stage of work.
What is important in water damage restoration?
First of all, to remove the water from the apartment as soon as possible, but it is very difficult to do this, using buckets and rags. This requires professional equipment for pumping water. Drying is also very important. But for the drying rooms after the flood is not enough just to open the windows. This will necessarily lead to the appearance of mold. It requires quick-drying using heaters, which should be carried out professionally. In addition, it is necessary to remove the water from everywhere (for example, from beneath floor covering), and dry all the places where the water came.
If carpets and upholstered furniture became wet, it is likely that their professional cleaning and drying will be required. Removing the water from the suspended ceiling and bringing them in order requires a professional approach too. To determine the possible damage to electrical wiring it should be checked by a qualified electrician.
Therefore, the apartment owners, which suffered by flooding, do the right thing, if quickly call professionals who have everything they need to eliminate flooding results.
Emergency water damage restoration by professionals
Our company provides all the necessary services in order to overcome the consequences of the apartment flooding. Highly qualified and professionally trained specialists operate quickly and with high efficiency.
A thorough examination of the object is carried out to identify all the places where water has become numb. Photos of premises perform to use in future for determining the amount of damages.
The removal of water is performed by professional equipment. If necessary, some building structures (plasterboard, floor tiles, etc.) become dismantled. Effective equipment is used for drying facilities. With the help of professional equipment drying of damaged documents, electronic equipment, furniture, works of art is carried out, unless they are irretrievably damaged.
Disinfection is carried out as a preventive measure against mold and harmful bacteria that may penetrate into the apartment in case of flooding.
After the end of drying process, you can determine what additional work is needed (for example, cleaning of carpets and upholstered furniture, etc.).
If suddenly flooding of the apartment has happened as a result of an accident or natural disaster, the main thing is not to lose time, quickly do the most urgent steps and call the professionals who are able to perform the emergency water damage restoration. Turning to the services of our company, you will receive all necessary assistance.