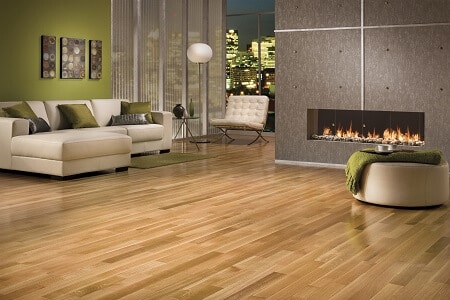 The home flooring is largely forms the overall impression of the interior. But the floor should not only be beautiful. The inhabitants of the house walk on the flooring, the floor is subjected to the pressure of heavy furniture (and sometimes the furniture needs to be moved from place to place). So, the flooring must be solid, in order not to deform and wear out from mechanical loads. Children (and sometimes adults too) like to sit on the floor. So, the flooring should be enjoyable to sit and so that it can be easy to keep clean. Owners of apartments are guided by these considerations when choosing home flooring, based on their liking and financial opportunities.
Some history
Even in ancient times, the architects well understood the importance of creating strong and beautiful flooring. The floors in the palaces of ancient Egypt were made of polished stone slabs and had voids in which it was possible to skip the warm air. In rich houses of ancient Greece and Rome were marble and mosaic floors.
Traditionally, the floors in the homes of Europeans were made of wood, especially in northern Europe. In the Middle Ages wooden floors in rich houses were subjected to processing and decorating, the manufacturing technology of parquet floors had been emerged.
Carpet flooring came to Europe from Persia. Stone, wood and wool to this day remain the major natural materials for flooring. In the twentieth century, with the rapid development of chemical technology, natural materials were added by synthetic flooring. Since the 30s, linoleum began to be issued on an industrial scale; it's now one of the most popular floor coverings.
By tactile perception the floors can be divided into hard and soft, warm and cold. According to the properties of the materials from which they are made they can be divided into natural and synthetic. In relation to the everyday stresses and factors affecting the flooring may be practical and sensitive, which require special care.
An excellent material for the flooring is natural wood. Mostly, it is applied in two ways: in the form of flooring, as well as in the form of a massive board. Parquet is very beautiful and has excellent sound deadening and anti-static properties. The same natural, environmentally friendly material is a wooden board. Larch is the best material, but pine and spruce may also serve as raw material for the manufacturing the floor. Parquet and wooden floors can have different colours and textures and are in good agreement with the majority of interior design styles.
A more economical option than natural wood is laminate. This material is made based on fiber board and paper, and has a surface film of acrylic or melamine resin. These substances are harmless and do not cause allergy. Laminate floor is very durable, and in appearance it is difficult to distinguish it from a floor of wood.
Linoleum and vinyl tile
In the eighteenth century linoleum was made of jute fabric, low-grade flour and vegetable oil. Subsequently, the oil in the linoleum has been replaced by polymeric materials. Linoleum is beautiful, has a lot of colorations. It is distinguished by strength, durability, anti-static properties. Many varieties of linoleum have soundproof soft substrate. The coating is easy to clean; it is soft and elastic, but not slippery.
Self-adhesive vinyl tiles are very convenient and easy to install: the protective film is removed, and the material is pasted on any base. Vinyl tiles are of different colours and sizes. The properties of vinyl flooring tile practically does not differ from linoleum.
Today carpet is one of the most popular floor coverings. Maybe because carpets combine in themselves beauty, practicality and cosiness. So, wanting to make their home comfortable and cosy, many people stop their choice exactly on carpeting.
The cheapest fitted carpet is thin, made of polypropylene or olefin without additional processing. The most expensive is jute-based, with a pile natural of wool. Carpets made by needle-punched method or flocking are accessible under the price and at the same time qualitative. As a rule, they have pile of pure polyamide or of a combination of wool and acrylic. Special treatment prevents the accumulation of static electricity. A pile does not emit volatile substances, and thus does not cause allergy. Fitted carpet provides good noise insulation, warmth, cosy look and a variety of colours.
Ceramic tile
Ceramic tile on the floor looks very elegant. Colours, patterns, textures, visual effects for ceramic tiles are constantly being developed, and on the market there are countless design ideas.
Ceramic tile environmentally friendly (made from natural raw materials, does not emit harmful substances), has high strength, not afraid of water, does not fade, and does not wear out.
Choosing home flooring
Each house has a completely different purpose rooms, so home flooring should be chosen considering the peculiarities of a particular room. For the hallway usually select coatings that possess the properties of strength, moisture resistance and durability. This is quite natural, because into the hallway people come from the street, more often in dirty and wet shoes. Ceramic tile has the required properties. Linoleum is also suitable for the hallway, because it is water-resistant. The same flooring is suitable for kitchens. For balcony floor the best are ceramic tiles; if balcony is with heat insulation, linoleum is suitable for its floor too.
Parquet, solid wood, laminate, carpet are well suited for the living room, bedroom and children's room. Selection of the coating defines by overall style of the interior and by the budget. Soft carpet is very nice for a child, but in the children's room quickly becomes soiled, and it must be cleaned frequently.
In the bathroom and in the toilet the only option is laying of ceramic tile. It is perfectly withstands abundant moisture and does not allow it to leak more. The tile flooring is easy to clean from any stains and dirt.
In conclusion, nowadays the owner of a house or apartment can choose floor coverings for interior decoration of your home from a wide variety of options offered. Our company can offer every customer a large selection of home flooring, from which he can make a choice according to their taste and the selected design style of the house.