What is Uniclic Glueless Technology?
Uniclic® is a revolutionary system for installing laminate floors without using glue. The panels can be clicked together simply, thanks to the ingenious shape of the tongue and groove.
This glueless locking technology for flooring works perfectly for both the long and short sides of the flooring panel. In addition to that, Uniclic is a locking system that is suitable for all types of materials starting from 3.2 mm.
Unilin invented the Uniclic patented joint locking system.  The Uniclic locking system enables you to engage the flooring panels via two methods – angling and snapping. This fact makes Uniclic one of the easiest locking mechanisms for do-it-yourself flooring installations, and the favorite of OnFlooring. Please refer to and read the manufacturer's printed and comprehensive installation instructions prior to actual installation.
Uniclic was the first one-piece locking profile to be introduced to the market. Over the years it became the industry's favorite locking technology thanks to its unmatched production efficiency and technical performance.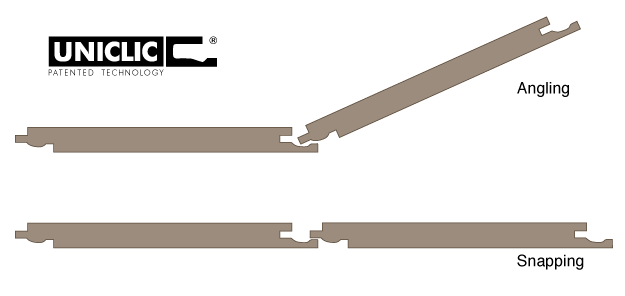 Installation
The installation of Uniclic is fast and simple. The Uniclic profile can be classified as an angle or basic locking profile, which means it has to be installed by an angular rotation movement. Besides this angular installation method, Uniclic can also be installed in a horizontal way by snapping the planks into each other.
Examine flooring for color, finish and quality prior to installation. If material is unacceptable, contact the seller immediately. Wood is a natural product and contains characteristics such as variations in color, tone and graining. Flooring is manufactured in accordance with industry standards, which allows manufacturing and natural defect tolerances up to 5%. Installer should work from several cartons at the same time to ensure good color and shade blend. Installer should not install undesirable pieces.
Features
Uniclic is widely known for its strong locking performance due to the possibility to use pre-tension. The Uniclic profile can thus be designed in such a way that the flexible lower lip will still be under a bit of stress after locking. This tension pulls the engaged planks closer together, which ensures there are no unwanted gaps or spaces between floorboards.
An additional advantage of the flexible lower lip is that the combination of contacting surfaces and spaces in the joint allows wider machining tolerances without compromising the security of interlocked joints. This tolerance flexibility is an important asset for manufacturers who produce on high speed machinery.
In addition to the pre-tension benefits, the Uniclic profiles interlock very securely. The gaps and spaces in the design of the Uniclic profile limit the movement of two boards when walked on, which reduces the unwanted creaking sounds that commonly occur in other flooring installed with glueless locking.