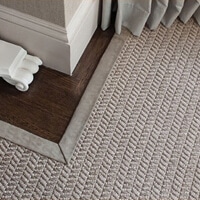 Quality Floors 4 Less is excited to announce our latest Green addition: Wool Carpets and Rugs by California's Unique Carpets Ltd. Pure, Natural, 4 Less than you may think.
For thousands of years, wool has been the fiber of choice in carpet and rug manufacturing as it naturally resists stains and fire. Aside from its heralded performance and unsurpassed aesthetics, 100% pure wool is an environmentally sound selection in that it is completely biodegradable and, since the earth's natural resources are not depleted in its production, it is a rapidly renewable resource. Wool is referred to as a 'bio-based' fiber since its production is fueled by another rapidly renewable resource – grass.
The key decoration element of your house is carpet. If you could choose right carpet, it makes your home more comfortable and stylish. The carpets are not cheap. So, it is necessary to buy carpets or rugs of good look and quality.
The most important part of the carpet is hair. Actually, there are two features that make your carpet to live long. They are hair type and carpet material. It is better to choose carpet that is widely used for walking, removing furniture, pets and other weightings. The hair of the carpet is made of five main materials: nylon, olefin, wool, polyester, acrylic. It is also very popular to combine wool and nylon. Obviously, wool carpets and rugs are natural. This fact makes them highly popular.
About Wool Carpets In Short
The wool carpets and rugs are warm and comfortable interior items. They look elegant and valuable.
Obviously, they are made of wool of high quality. Buying wool carpet, you should pay attention to the carpet color. You should remember that natural wool carpets are not bright and acid. They are characterized with natural colors. Wool covering is elastic, long living and high density. Modern technologies improve carpet condition by using antiseptic and water resistant materials and treatment, combining wool and synthetic materials.
Wool Carpets of Different Types
Half-woolen carpet (less than 50% of wool);

Wool carpets and rugs

(50% of wool and more);

All-wool carpet (100% of wool).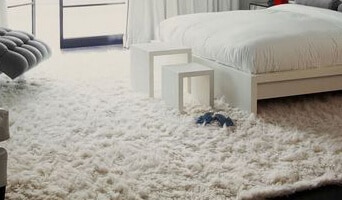 It is possible to add some silk to the carpet texture. The newest technologies help to make natural carpets much cheaper by using viscose and nylon instead of expensive natural silk.
Choosing Carpet
Do you know the problem of choosing carpet? It can be really difficult to decide which type of floor carpeting is more rational. So, do you prefer synthetic or wool carpeting? The both of these variants have pluses and minuses. Reading this article you can decide for sure which variant is acceptable for you.
Synthetic Carpets
Advantages:
Synthetic

carpets

are

cheap

.

If you used to change your house interior very often, it is better to buy stylish synthetic floor covering;

Synthetic hair is hypoallergenic;

Synthetic carpets are easy to clean, brush or wash, whatever;
The carpets are bright. They are made of colored hair. So, it will not lose in color for a long time of active usage.
Disadvantages:
Synthetic carpets accumulate static electricity to accumulate dust and dirt all together;

The most of synthetic carpets are cracking and rolling down;

Synthetic is not long living material;

Fire performance.
Wool Carpets and Rugs
Advantages:
Wool carpet lives long. They can be sent from father to son for ages;

Woolen

carpets

are

not

bright

and

acid

colors

.

They look natural and stylish of muted colors;

High fire protection;

Wool carpets are always warm to conserve the heat;

Elastic hair.
Disadvantages:
Woolen carpets are strong allergens;

Wool carpets are difficult to clean;

They can be damaged by mold and moth;

High price

.
Take Care of Your Wool Carpet
To take care of your wool carpets and rugs you should keep the rules. Wool carpet is preferable to synthetic materials not only because it is stylish and soft. Actually, buying carpet is very important step in your house design. This is not the one–day caprice. To keep you carpet clean and good-conditioned it is better to follow the rules below:
Woolen carpets are afraid of wetness. It is not recommended to put wool flooring in the rooms of high wet air;
If you want to keep your carpet always bright, it is better to keep it far from the direct sunlight. The curtains or window shades can help;
If your carpet is high quality and solid material, it is not afraid of heels and furniture;
You should change your carpet location for 90 or 180 degrees position from time to time. These simple manipulations help your carpet to be new and good-looking.
Cleaning Wool Carpet
To keep your wool carpeting clean and fresh, you should use vacuum cleaner at least once a week. It is much better to clean carpet on both sides.
The wool carpets and rugs must be washed once a year. It is very dangerous for wool covering to be washed. Pay attention to: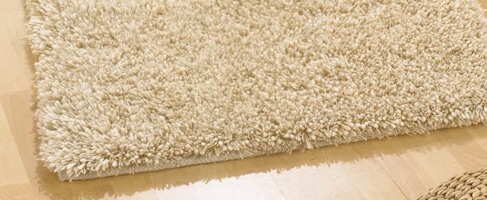 Cleaning materials that are assigned with the mark all-in-one are not attractive for woolen materials. It is better to buy something soft and careful.
Forget about using whiteners. They can damage your carpet.
If you decided to wash your woolen carpet with special shampoo, keep the instruction proportions: you do not use water, but foam.
Never forget to dry your carpeting after cleaning: you may use paper or textile towels. Of course, it is better to dry carpet in the natural conditions without using drying machines and other equipment.
Why Do You Need Wool Carpet in Your House?
Elegance. Beautiful carpets with beautiful decoration are great for your house. The variety of colors, decorations, textures helps you to choose the best carpet for your home to make it unbelievably stylish and original.
Comfort. The carpets make your home warm and comfortable. It is really pleasant to go, sit or rest on the carpet. It helps to keep your house warm.
Health. The floor with the wool carpet on it absorbs dirt and dust. So, the air in your house is clean. Wool carpets and rugs face the attack.
Sound-absorption. The woolen floor deadens sounds 10 times better than the naked hardwood. You house is going to be calm and quiet.
Durability. The high quality wool rugs and carpets live for ages. Moreover, they look great!
Simple to use. You know, it is not a problem to decorate your floor with the natural wool carpets and rugs.
Simple to clean. It is said that natural carpets are difficult to clean. As a matter of fact, carpets made of natural materials do not need special attention. It is enough to clean it with your vacuum cleaner from time to time. Do you want to clean your carpet without damage and harm? It is better to call for cleaners.