If you want to renovate your residential or commercial space, solid hardwood flooring is a reliable and attractive choice. Especially, if you purchase it wholesale. The benefits of wholesale hardwood flooring are given below. Firstly, it is better to speak about the hardwood flooring advantages.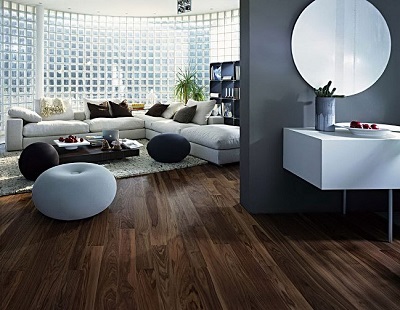 Straight-forward installation for those with experience
Quality hardwood floors are specifically milled to ensure a uniform and stable fit. The choice between finished and unfinished hardwood floors is an important factor for every home owner.
Easy to clean
Hardwood floors are very easy to clean as they do not accumulate a lot of dirt, dust, and debris. A weekly cleaning procedure involves vacuuming, moping and keeping the floor dry. That's it!
High quality look
It is elegant, high-end aesthetic. The hardwood floors offer the warmth, beauty, and value of wood, which never goes out of style. Hardwood floors are also said to enable a look of spaciousness wherever they are installed.
Strength and durability
High quality hardwood floors that are kiln-dried, manufactured, installed, and finished to certain standards can last for generations. They are good for active workspaces and heavy foot traffic, quality hardwood floors are tough, hard-wearing, and have long term durability.
A great long-term investment
Choosing hardwood floors increases the value of your property. It is a great long-term investment and can actually become a strong resale argument, exceeding the initial installation cost of the floors. Of course, the price of it is higher than lamination, but the quality is high too.
Variety
Hardwood floors offer a wide range of appearances. There are many colors, styles, textures available. In addition, you can choose between pre-finished and unfinished hardwood floors. No matter how diverse and unique your needs are, there are many hardwood flooring options available.
Better acoustics
A properly installed hardwood floor never gives you hollow sounds or vibrations.
Healthy indoor air quality
These floors are a healthy choice for interior environments. It has no fibers, grout lines, or embossing that can trap dust, pollen, particles, animal dander, and allergens that occur with carpets. They are the best choice of flooring with allergy sufferers and contribute to healthier indoor air quality.
Don't Worry About the Price! Buy Hardwood Flooring Wholesale!
Wholesale outlets for hardwood flooring are increasingly popular in many parts of the country. Buying wholesale hardwood flooring is worth the effort of finding an outlet because of the money you can save. Check the phone book under hardwood flooring wholesale or search the internet for wholesale hardwood flooring. Nothing can beat the bargain of buying quality products for wholesale prices. You can be surprised.
Wholesale purchasing is an excellent choice because it provides the home owner with high quality hardwoods at a low, almost budget price. Wholesale hardwood flooring is flooring that is genuine hardwood but it is being sold at a wholesale price, or the price that the retailers will pay for it. The price is often significantly lower than that which you would pay at any other location. The most difficult aspect of the use of wholesale hardwood flooring is finding locations to purchase it from on your territory.
Wholesale Benefits
Wholesale hardwood flooring has many advantages to the user.
High quality
First off, it provides for people to have the high quality, the highly beautiful hardwood look. Don't worry that the lower price makes the low quality. The product tends to be of the same quality as standard hardwood, the only difference tends to be the price. Hardwood wholesale is still the same in quality as that of the standard, or even over-priced, items. The difference is that it provides more affordability with that high quality.
Ageless Quality
Hardwood flooring has been used for years. It is a type of flooring that will last a lifetime or longer. When protected, it is durable, beautiful to increase the value of your home.
Saving Prices
The hardwood wholesale gives you one more great benefit – price savings. This is, probably, the most important and firstly visible benefit that you pay attention to. The drawback to hardwood flooring wholesale purchases is that they are hard to come by. Because the price of them is so outstanding, it can be purchased rather quickly. Or, it may not be available in all of the standard colors and types that the buyer would like to purchase. Hardwood wholesale is difficult to find and may mean that the buyer must purchase whatever it is that is being offered by the location. This may be a deterrent for some.
Wholesale Purchasing
There are a number of ways you can find wholesale hardwood flooring. First, you can check out wholesale outlets for hardwood flooring. These locations will provide you with hardwood flooring wholesale prices and often stock a good amount of the product. That means that you are likely to find what you are looking for and enough for your specific needs.
You can also look on the internet. You can seek construction projects that have been stopped or the customer changed their mind about their hardwood choice. What is important, you can read the clients' feedbacks to be sure that the product you are going to buy is good and the constructor company is reliable. To find these wholesale outlets for hardwood flooring, simply do some basic research on the web. Know what the standard pricing plan is for the type of hardwood that you plan to purchase. Compare websites to find the wholesale hardwood flooring products from one website to the next until you find just what you are looking for in quality, price and desired look.
As you can see, there are many benefits for using wholesale hardwood flooring in your home or your business. It provides an affordable way for you to get the beauty and durability of hardwoods at the right price. It allows for the added value to the home or business because of the high quality of the flooring. When properly protected and maintained, it can last you for years. When you can get this all in a great price, what else is there to complain about? Wholesale hardwood flooring is an outstanding choice for now!